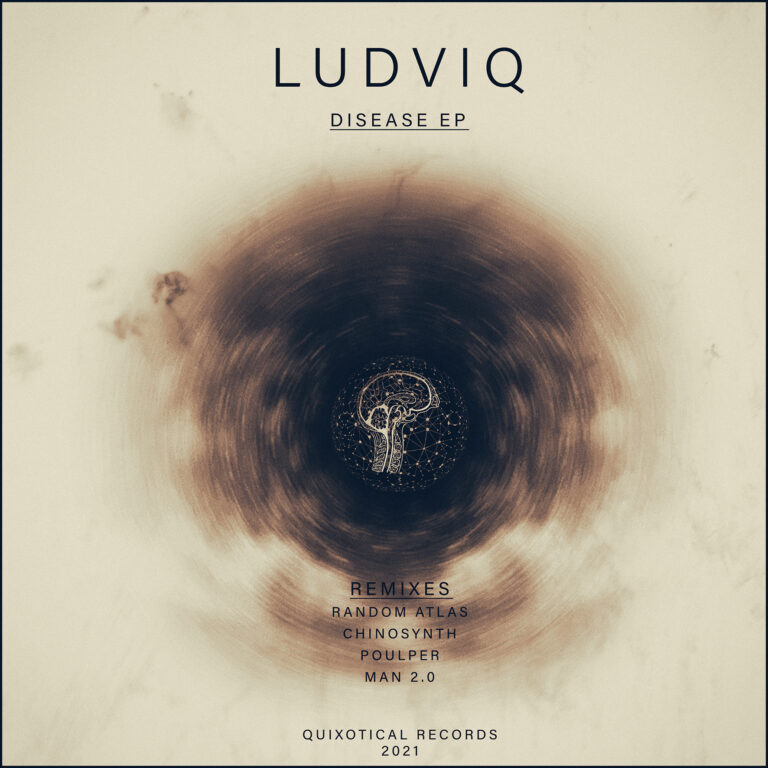 "LUDVIQ" the head of Mexican-based label BONKERS joins Quixotical Records again and strikes like thunder with his release "DISEASE" with 2 originals and 4 remixes by Random Atlas, Poulper, Man 2.0, and Chinosynth.
"Vindicta" and "Disease" are two original tracks that are spreading a boundless dark atmosphere with a minimal and not overcrowded sound. "Vindicta" keeps tension from the beginning till the end of the track. Big deep and strong bass takes the main role putting in front the dark feeling colored by mystical vocal loops and techno percussive groove. The title track "Disease" continues the concept of the importance of bass and background vocals. Minimal techno groove, neat arrangement, simple but straight to the point percussive arp. Absolutely gorgeous Latin techno tracks that will suit every dancefloor.
Well known duo from Berlin "Random Atlas" brings the remix of "Disease" in even darker way. Perfect dark disco composition complements the original track with synth fxs that deepens the word of moving bass. They have used the breaks and dark side of the original track leading to another mental disease! If you think that dark can't be darker – listen to this amazing remix!
Admiral of Quixotical Records – "Poulper" participates in this release as well. He brings out the "Disease" into the light. At least it is what you may think at the beginning of the track. But…darkness from this release has not gone anywhere. Poulper transforms the track into a Latin dark disco which has groovier points but keeps the main idea of the original track untouched. Highlighted efxed vocal loops occupy quite an important part in the remix and put heavy weight on the overall sound. This track is perfect for colorful dark lovers!!
"Man 2.0" made an effort with "Vindicta" remix for 90's rave lovers. This man always surprises with a taste of the sounds he produces. Analog sound is his visit card for sure. Dirty stuff, raving vibes, acid material, and drum machine. Turn this track loud and join the old-school future for a space trip.
The twisted remix comes from "Chinosynth". He made an interpretation of "Vindicta" in a very subtle progressive and mystery way. With continued synths, dark leads, and tension in the atmosphere. This track will kill you or save you. In both ways, an amazing experience is waiting ahead.