Silicodisco & DPAZ "INFINITY ROADS" EP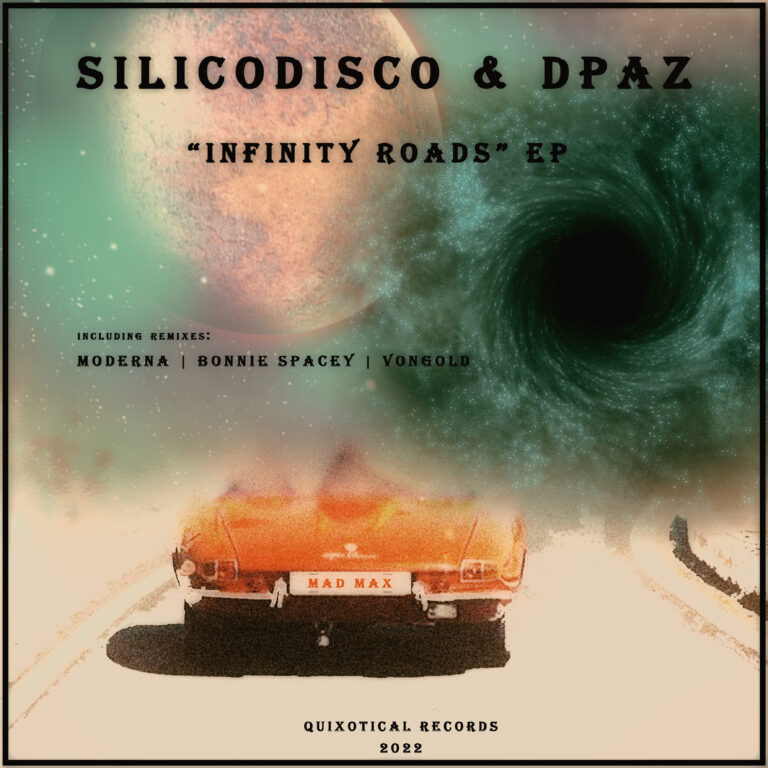 Number 009 in Quixotical Records releases belongs to Silicodisco & DPAZ feature work "Infinity Roads". This EP is a brilliant masterpiece of two original tracks and 3 very special remixes by one of the greatest women in the dark disco scene: Bonnie Spacey, Moderna, and Vongold.
Infinity Roads (Original Mix)

Infinity Roads is one of those tracks that perfectly complete the space between introduction and resolution. It's all about progression and domination, the
song manages to reach the climax, make a reasonable impact and move on, by doing that, the track not only fulfills it's narrative structure but also
renders us a picture of it's world, which is conspicuous by design, full of grotesque beauty and unbelievable atmosphere. Everything fits the purpose and
every detail is alive with personality and indifference.
Mad Max (Original Mix)
True stars of Mad Max song are none other than the quirky sounds that seem to be popping up with no clear pattern whatsoever. Well, at least this is an
initial impression. This tune has a perfect system of layers and it uses those layers accordingly, at some points it challenges itself to an exhaustion to show off some of the more valuable and intriguing assets. It goes without saying that this piece has a brutally established formula, and watching it go through this process of "self unravel", is not only an incredible experience but also a rewarding one.
Infinity Roads (Bonnie Spacey Remix)
Bonnie Spacey lays a great promise from the very beginning of this fine remix. And this promise is that the destination is not the same. More excitement,
less resemblance, and a considerable amount of free-roaming are instantly recognizable. Change of focus surely gave a different identity compared to the original. This remake can be considered more of a dance floor banger than it's predecessor, just because of the mood it spreads across the depths of the track. Not saying it's all cheerful and vibrant, but "dance dance disco" theme is more established and flourishing, there was no shortage of creative ways
for Spacey to bring this version to a completely divergent plane.
Mad Max (Moderna Remix)
As distant as it may seem, Moderna captures the magic of the original track and maintains it throughout, balancing the intended vision with the key characteristics solely in tact. Take a moment to consider how bizarre, rotten, and oblivious the mood of this unrestricted experimentation changed and at the same time fused with the core aesthetics of this song. Ghoulish mannerisms and powerful attitude are two driving forces that manage to stretch the imagination of the audience and resonate with them on a primal level…
Mad Max (Vongold Remix)
This remix is full of the right kind of engagement and intrigue, the overall style and arrangement are sneaky and endearing. Unlike it's predecessor, Vangold's Mad Max dwells in an ever so slightly sci-fi concept, alongside remarkable sequences with a grounded and strong emotional background.