Veltran "BAILA CON LA CABEZA" EP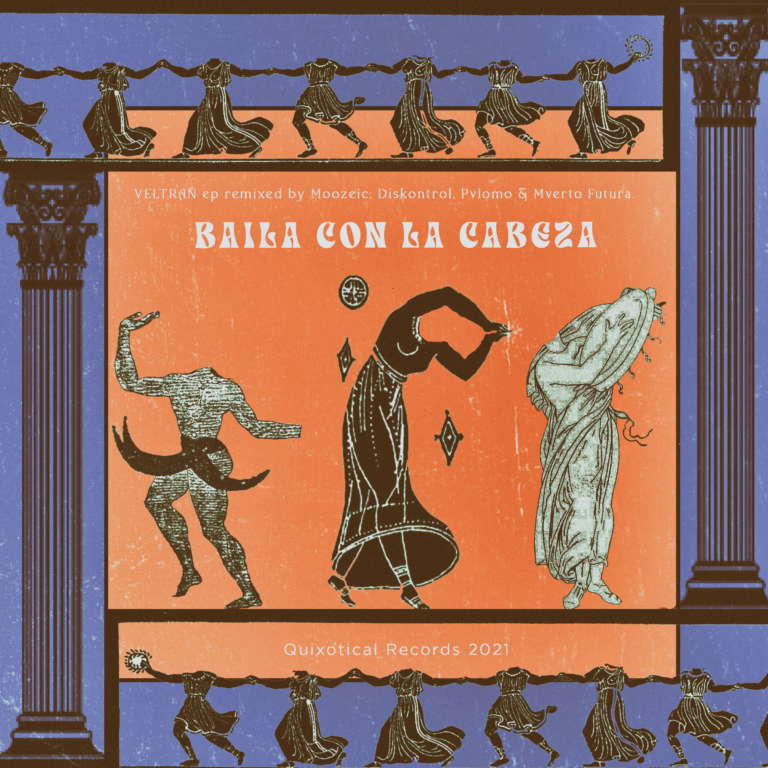 The 6th release from Quixotical Records belongs to producer from Mexico – VELTRÁN. Two original tracks and 4 remixes from
MOOZEIC, DISCONTROL, PVLOMO, and MVERTO FUTURA lies down into "BAILA CON LA CABEZA" EP
EP starts with "NOCHES" original track. Stunned and frightened on how well-done the characterization of this song is. This is the most important part of
this track because it sets the terms for the mood. And the mood is everything it needs to be – dark, broody, and very intimidating. Prepare to receive a
soundwave of chills running down your spine!
The second is the title track "BAILA CON LA CABEZA ". Like a sharp needle it pierces your eardrums, giving you an uneasy feeling, you're not alone, there's someone in the dark, creeping in the shadows like a ghost, you can't see it, but you can hear it, you can sense it, intensity is building up and that thing is only growing, feeding off of your fear of the unknown, getting ready to consume you, and it will… Resistance is an absurd thought, that will pass through
your mind, shortly disregarding itself until there's nothing, but vicious sounds fighting each other in the eternal landscape we call consciousness.
MOOZEIC version of "NOCHES" reveals different layers of the song, it shows us how high we can ascend and when is it safe to jump back in our own shoes. Robust and
stuttering skeleton slithers through the track, granting it necessary impulses to keep it lifelike, we all know it's just an empty vessel inhibited by the
monstrous, wire pulling entity, but we all just let it slip, because sometimes smokes and mirrors is exactly what we need.
DISCONTROL remix of "NOCHES" – Hypnotizing and confusing, two words that can almost describe this adaptation, but as you might guess there's always more. A sinister secret lurking just beneath the surface. Unveiling itself little by little, attempting to describe horrifying things that can make a man go
mad just by listening to it. At times greatly impressing you and freaking you out at the same time. It begins with horror and ends no other way.
There are no bars keeping you away from your suspension of disbelief in PVLOMO interpretation of "NOCHES", much lighter than it's opposition, but none the less entertaining. A change of tone, but not of heart if you will. Engaging and convincing in many ways. It plays with silence to keep you aware, it
scratches the empty space between you and the sound and that is all it needs to do to get under your skin.
Last but not least is the title's track "BAILA CON LA CABEZA " remix by MVERTO FUTURA. As you get deeper, closer to the core, you're exposed to so
many aspects, pushed so far beyond the ordinary you can't tell what's happening. The only thing that is clear to you is emotional intensity. It's there,
escalating. The precision and believability stir you up, leaving you in appreciative awe. Any disturbance in this state would be absolutely criminal, but then
again, everything ends doesn't it?